Current versions of the ZEN utilities for NDI®, for 64-bit Windows (only), including:-
NDI® Cutter
NDI® Drag&Drop Image Viewer
NDI® Dual False-Colour Monitor
NDI® Framecode Signal Generator & Receiver/Analyser
NDI® Graduated Background Generator
NDI® No-Audio Meter
NDI® PA Prompt
NDI® Router & Remote Panels
NDI® RTx Receiver/Transmitter
NDI® ToneGen

| | |
| --- | --- |
| NDI® Logo/Bug Player | v1.0.1.8 |
| | Jun-23 |
| ReadMe File | Previously |
| | v1.0.1.7 |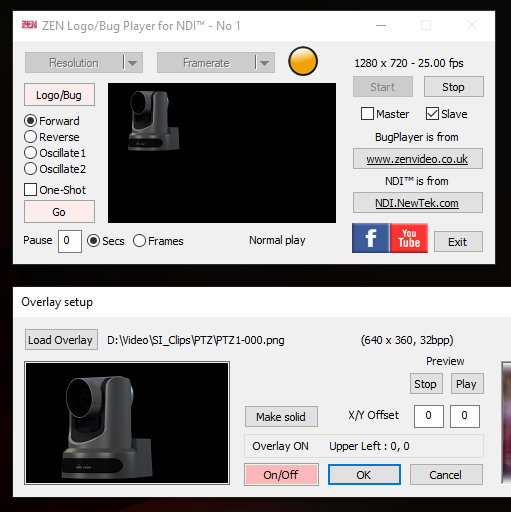 The NDI® "Bug Player" is intended for the playback of image sequences (with transparency) as an NDI source using RGB+Alpha video encoding. Typically it can take small images and position them within a bigger canvas, preserving the pixel dimensions of the source images within the NDI output (i.e. with no degradation from image scaling). Sequences can be played in various modes (forward, reverse, oscillate), in either one-shot, continuous or timed play/pause modes.
ZEN NDI® Cutter
(pre-release)
v0.3.0.12
Jun-23
ReadMe File
Previously
v0.3.0.11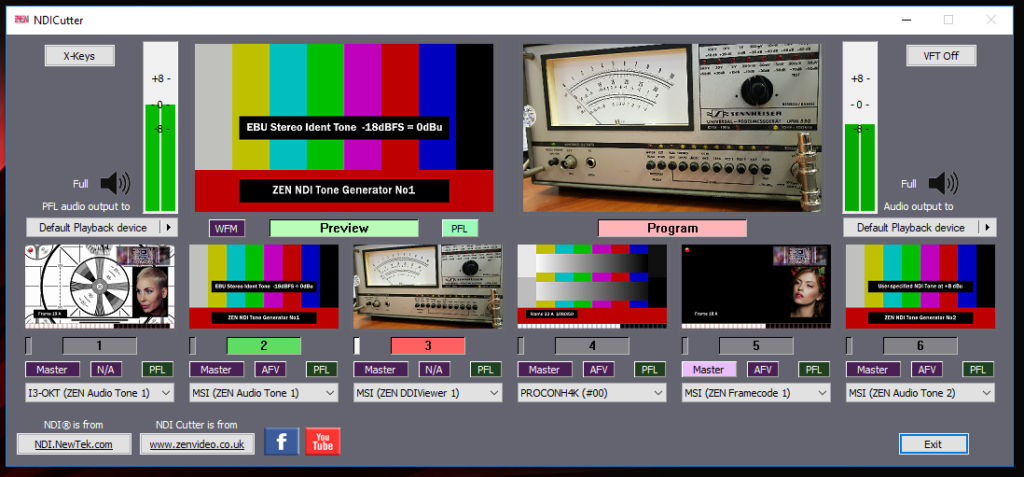 A simple cuts-only switcher for NDI® streams – no scaling, no framerate conversion. For the audio, you select one input as the Master audio, but if you want the audio to change to particular inputs when selected, then enable the AFV (audio follow video) button for that input.
ZEN NDI® Drag&Drop
Image Viewer
v1.1.0.13
Jun-23
ReadMe File
Previous
v1.1.0.12
Image files can be drag&dropped onto the preview window to output them as an NDI® source, with an optional background, either solid black, 2-colour graduated fill, transparent, or user-supplied (by frame grabbing the current output). Different scaling modes are available for the source images, which can include an optional crossfade transition when loaded. Images are centred on the output and maintain their original aspect ratio in all modes. A "Watch" mode will reload the current image file whenever it is modified. Image formats supported include bmp, gif, png & tif files, at up to 32bit/pixel (i.e. including transparency).
ZEN NDI® Dual
False Colour Monitor
v1.0.5.13
Jun-23
ReadMe File
Previously
v1.0.5.12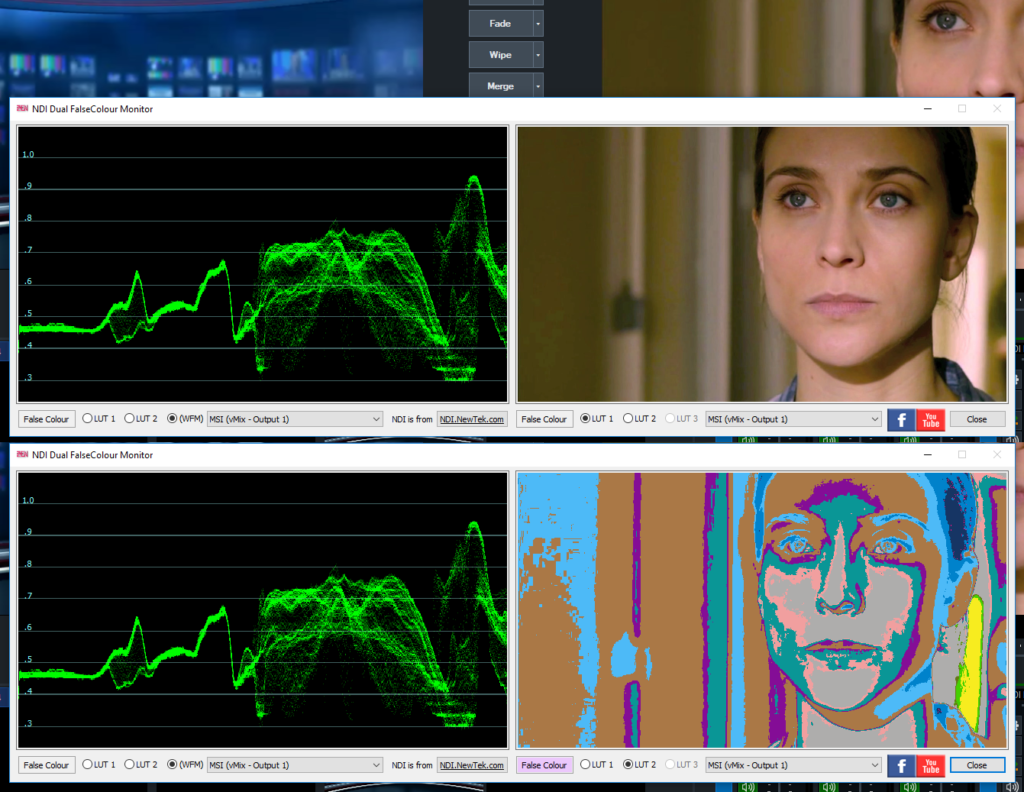 Dual channel NDI® video monitors with optional WFM (WaveForm Monitor) and False Colour display modes, selectable from two different LUTs. Supports NDI tally signals. 2×1 & 2×2 layouts available.
ZEN NDI Framecode Test apps
Sig-Gen & Receiver/Analyser
v1.3.0.34
& v1.1.0.18
Oct-23
ReadMe File
Previously
N/A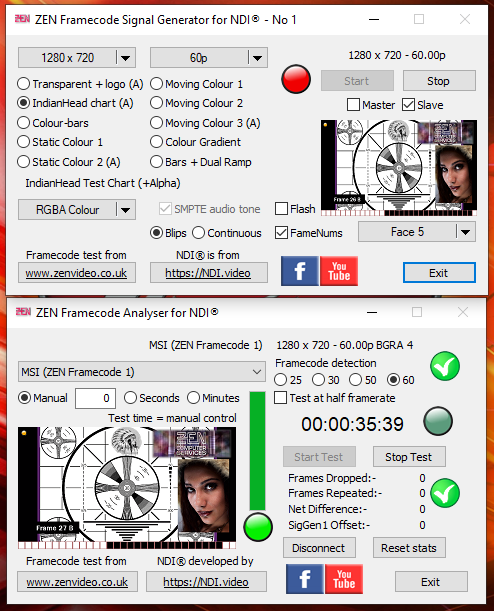 The Framecode Generator creates a variety of NDI test signals of different complexities, both moving images and static frames, requiring differing amounts of bandwidth (from High-bandwidth NDI) and therefore useful for stress-testing the LAN infrastructure. There is a choice of framerates, pixel resolution, colour format and optional 4-Ch audio.
Most test patterns are overlaid with a burnt-in Framecode which can be analysed for dropped/repeated frames by the NDI Framecode Receiver, allowing round-trip analysis of signal paths which start and end in the NDI domain but involve other signal processing in between (by other software).
NDI® Graduated
Background Generator
v1.0.3.15
Jun-23
ReadMe File
Previously
v1.0.3.14

The basic functionality is in generating a 4-way gradient-filled image using selectable colours for the four corners of the rectangle, although pairs can be set to the same value in order to achieve a simple 2-way gradient. The gradient image can either remain static or the colours can rotate in a clockwise (CW) or anticlockwise (CCW) direction, with variable rotational speed. Greyscale masks can be imported as alpha channels, as pictured above.
| | |
| --- | --- |
| ZEN NDI® No-Audio Meter | v1.3.4.26 |
| | Jul-23 |
| ReadMe File | Previously |
| | v1.3.3.25 |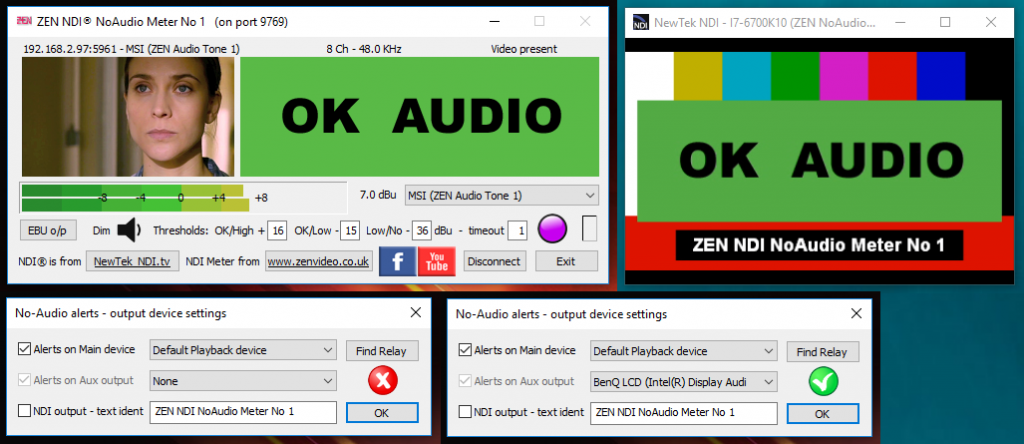 A simple Red-Amber-Green audio display designed to a provide an alert when the audio level of the selected NDI® audio stream falls below a certain level, with the detection thresholds fully adjustable by the user. It also detects breaks in the stream from the selected NDI® source. The "No Audio" alert state flashes red and can generate audio beeps, as well as controlling USB relays, sending alerts via NDI®, and communicating via a TCP server with a remote display app.
| | |
| --- | --- |
| ZEN NDI® PA Prompt | v1.0.0.5 |
| | Jun-23 |
| ReadMe File | Previously |
| | v0.9.0.4 |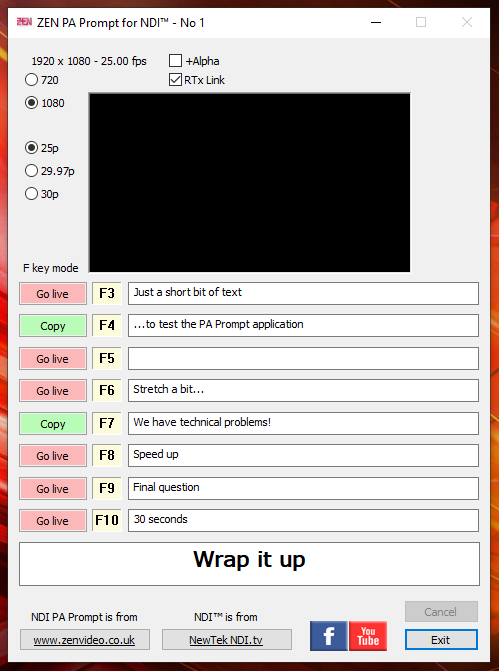 A simple text generator for creating subtitle-style captions as an NDI® stream.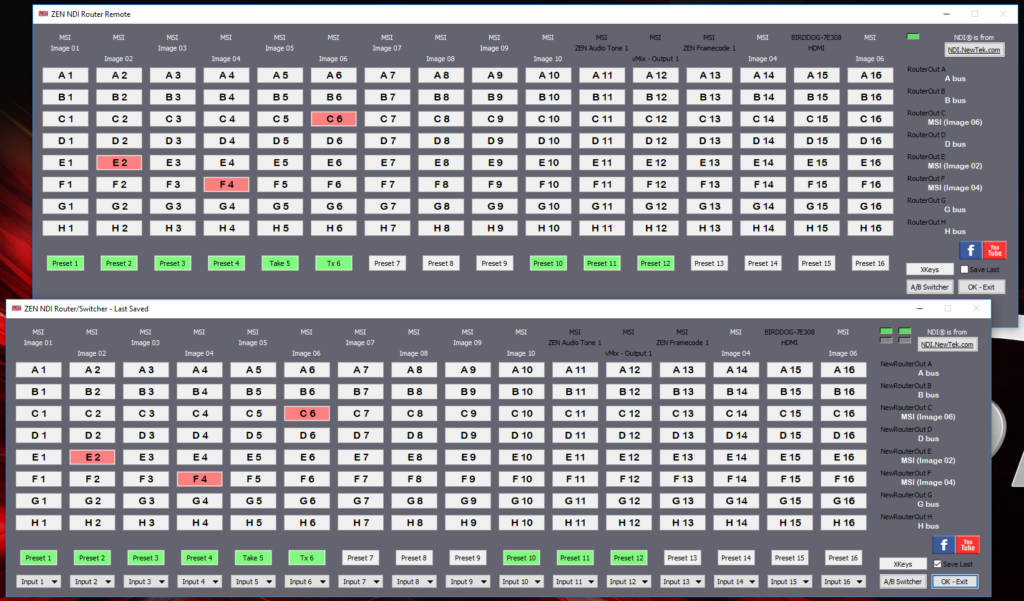 An NDI® Router (Matrix Switch) which uses the Routing functions introduced in v2.0 of the NDI SDK. These functions allow the creation of software routers for NDI® signals which can effectively switch between NDI® sources with no added latency to the switched NDI® stream and virtually zero CPU usage.
The router can be configured on start-up to have anywhere from 6 to 20 inputs and from 2 to 24 outputs. Routing Preset buttons store groups of switch positions, allowing multiple outputs to be switched with one button click. Config files can be saved and loaded, including "save last used on exit" and "load last used on start-up" options. Config files include the data for Routing Presets and for the NDI® sources used by each input.
The current version includes support for the XKeys XK-24 & XKE-40, and also includes the Router Remote application. This is a network client which connects to the TCP server in the main Router, and adopts a similar looking user interface, including the same local XKeys support, allowing the Router to be controlled and monitored from up to four additional locations. The TCP server also allows for remote control by other devices (eg Elgato Stream Deck via Bitfocus Companion, and by Joe de Max's Central Control).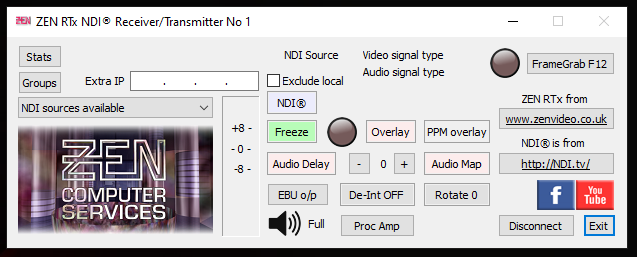 NDI-RTx was originally created because I wanted something to run on a remote PC to perform an "NDI® loopback" so I could monitor the effects of a round-trip over a network, measured on the same PC as the NDI® source, something equivalent to a "Relay" or "Repeater" transmitter (as used in TV/Radio transmission).
The current edition includes many extra processing functions, including a freeze-frame function, audio delay, audio channel re-mapping & gain, local audio monitoring and a video confidence monitor, an overlay function (for adding static or animated image sequences), de-interlacing, image rotation/flipping, and includes the option of converting the video (+alpha) output into AirSend mode to allow older Tricaster models to make use of NDI® sources (eg from graphics systems), or of creating separate NDI® "Key & Fill" outputs from RGBA sources.
Recent versions have added a basic video ProcAmp, an audio PPM meter overlay, frame-grabbing to image file, and support for NDI Groups.
| | |
| --- | --- |
| ZEN NDI® ToneGen | v1.0.9.15 |
| | Jun-23 |
| ReadMe File | Previously |
| | v1.0.9.14 |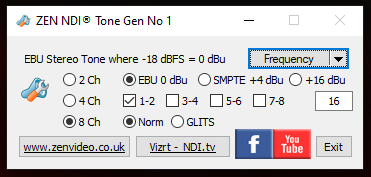 This audio tone generator is intended for testing and troubleshooting issues involving NDI audio levels and channels. It can generate either 2, 4 or 8 channels of audio (as four stereo pairs), at any desired level, using a selection of frequencies (from a fixed range). The audio is accompanied by a basic colour-bar video stream which shows the audio level as text (for reference), plus an optional editable text ident.
If you find these applications useful, please consider making a donation and help to support further development.